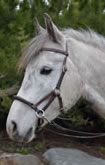 Lindell Bitless Bridle - Leather Noseband
SKU:
New! The leather noseband "Lindell" Sidepull. This bitless bridle is a side-pull with a flat stitched leather nosepiece and soft leather jowl and chin straps.
The Lindell is custom made for Tellington TTouch Training and named after Linda Tellington-Jones. We use it to start young horses and with horses who are sensitive in the mouth, overbent and/or for riders who have a tendency to balance off their hands. The Lindell buckles under the jowl to keep the nosepiece and cheek straps from slipping.