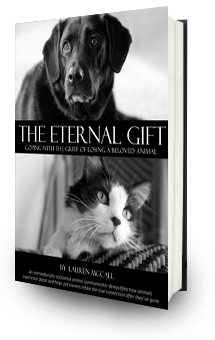 The Eternal Gift: Coping with the Loss of a Beloved Animal
SKU:
Read The Eternal Gift
for Words of Love and Comfort from Animals who have Passed
Thousands of people all over the world have turned to The Eternal Gift to: 
Understand the life lessons of our beloved animals
See the special reason they came into our lives
Learn how we may someday meet again
The animal's words, spoken from the heart, provide comfort, hope and meaning to animal lovers who are going through the grieving process for their animal companion. Pet loss is never easy, but this book can ease the process.
Learn how animals perceive death as just another stage on their life journey. It is a place where they come home to their true essence. A place where they can rest, reconnect, and choose their next life lesson.
Coping with the bereavement process is a difficult and painful time, but it can also be a time of peace, healing, and hope when you gain perspective on the joy, love, and comfort your animal brought into your life. Animals believe that the love connection between themselves and their human family members lives on after death, an everlasting and eternal gift.  
The Eternal Gift is an international best seller and has been translated into Japanese, Chinese and Korean.  
Printed: Soft cover, spiral bound
eBook: Download in PDF format (You'll need Adobe Acrobat Reader to view it. Get Acrobat Reader here.)
eBook: Download in MOBI format for Kindle 
eBook: Download in EPUB format for Nook, others